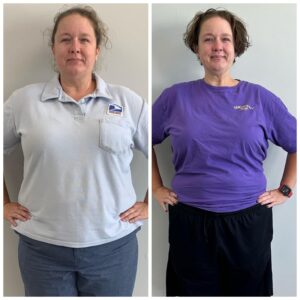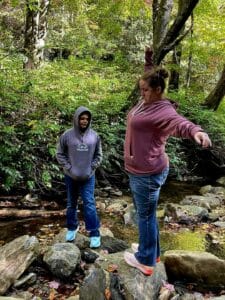 "I have felt better in the last 3 months than I have my entire adult life!"
~ Lindsey Cameron
Update! Lindsey is now at 122 days and 42 lbs. down and a whopping 61.5 inches!
_______________________________________
In just 95 days Lindsey dropped 40.5 lbs. and 53 inches!
Update! When this story was first published
Here's a little snapshot of her story…  
"So, I've always been a plus size Girl.
My highest was 400 pounds.
For the past 13 years or so I've been working on losing weight, but I have plateaued for the last 10 years.
This summer I finally got to the point where I was just like I'm tired of not being in my uniform because trust me when I say the postal carrier uniform for not very friendly. I was so tired of not having the energy after work to do anything. I was tired of hurting, and I was tired of just feeling like crap. My mood swings were from one end to the other. I was snapping at the littlest thing you could possibly think of. I didn't feel good and decided something needed to change.
I've been carrying mail for 17 years and this summer the while delivering to a business not on my regular route (2030 Wellness, East Cobb), I saw a banner that said something about hormones relate to weight gain and that really grabbed my attention and made me think, "I need to try this!"
I decided if I'm going to do this, I'm going "all in" because I have a cruise coming up but more so my hormones were crazy and I was so tired of hurting. My joints were hurt, and it's like I couldn't even walk up the stairs without having to hold onto something and I had to tell myself to just breathe through the pain and keep going. I was thinking of having to get my hip injected again, and I did not want to do that.
I really wanted to see if I could get the pain to go away so I didn't need to get the double hip injection just to function.  Now my hips are amazing.  I can climb a flight of stairs with no joint pain! 24,000 steps a day and no pain!
When I started the program, I had a lot of doubts.  I've always self-sabotaged, but the more I have been a part of the program I find I smile a lot more.  I feel better in the last three months than I did in my entire adult life.  No more self-sabotage here! People around me are noticing a huge difference.  I'm easier to approach and my co-workers don't find me as scarry to approach as they did before. (lol)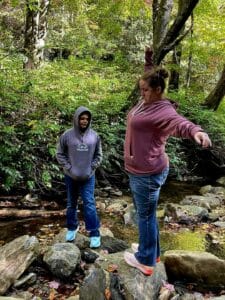 For anybody who is thinking about doing this program, I have found it is a very forgiving program.  You are not alone. There is so much support. I've done so many other programs in the past where the people working for the other programs don't really know what it's like to have the same issues that this program encompasses.   I love the support and knowledge that is included in the 2030 FastTrack.
My doctor was floored by my results in the last 3 months. This is the first-time in 20+ years they've known me my cholesterol and glucose were in the normal range ALL IN THE 3 MONTHS OF DOING THIS PROGRAM! 
I have to pinch myself sometimes to make sure this is real!
I'm 41 years old and basically just starting life now!  Below is a picture of me at my first NFL Game!! "
~Lindsey Cameron

Where could you be by New Years Eve?