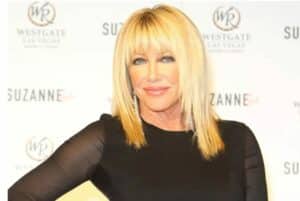 Show 'em what you're really made of girls!!
Never, EVER let 'them' define you!!
Never, EVER believe that you can't be anything you want to be!
Suzanne Somers had pretty much been stereo-typed by Hollywood as a dumb, 'dizzy-blonde' dingbat.
She would go on to prove them SO wrong!
She became obsessed with all things related to natural approaches, nailed best-selling author status multiple times, was a sought-after international speaker and the founder and creator of a massive health, wellness & beauty business empire!
I met her in Miami at an Academy for Anti-Aging Medicine event, where she shared how the folks in Hollywood were sure she'd never go anywhere after they turned her down for the raise she asked for, for being the main reason anyone watched "Three's Company" yet was the lowest paid actor.
Not only did they say, "No," they even insulted her and told her she'd never become anything more than that dumb blonde because that's exactly what she was.
Well, that 'dumb blonde' proved them ALL wrong!
She changed the entire world with her research and voice for hormones, perimenopause, menopause, toxins, cancer and overall well-being.
This week, she passed from this earth peacefully, in her home, with those she loved around her.
And, for those of you who don't know this…. she was diagnosed with breast cancer 50 years ago.
FIFTY YEARS AGO!!!
Fifty years of walking her talk and keeping that dreadful disease at bay!!
What a life! What a story! What an inspiration!
Her message rings loud and clear to me!!
Never, EVER let 'them' define you!!
Show 'em what you're really made of girls!!