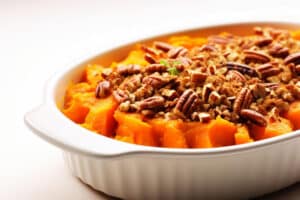 Sweet Potato Casserole
Ingredients
3 cups mashed sweet potatoes.
Stevia to taste
2 eggs, beaten.
½ teaspoon light salt
4 T butter, melted.
½ cup skim milk
1 ½ teaspoon vanilla
Topping
6 drops English Toffee Stevia
3 T butter, melted.
1 cup pecans, chopped.
1 pkg protein pretzels, crushed.
Instructions
Mix potatoes, stevia, eggs, salt, butter, milk and vanilla.
Put into a shallow 1 – ½ quart baking dish sprayed with nonstick cooking spray (like organic avocado oil or coconut oil).
Combine stevia and melted butter, add pecans and crushed pretzels, sprinkle on top. Bake at 325 degrees for 30 minutes.