There are five components that actually prevent you from losing weight.
The first of the 5 reasons is insulin balance. When you put simple carbs into your body you're blood sugar level goes up and your insulin rises which puts you into fat storage mode.
Some folks don't realize is that flat lining insulin can be one of the healthiest things in the world for you for so many reasons. It will keep you from going into fat storage, but also insulin is that key hormone that affects all these other hormones that can prevent weight loss.
Insulin balance is a big factor in being able to lose weight.  Insulin will affect adrenaline and adrenaline will affect cortisol and now everything is off balance.
If you've got stress, and most have way more stress than we ever were intended to have, the cortisol levels are rising. If cortisol levels are rising, that means that they can be stealing from progesterone. If they're stealing from progesterone that means estrogen is going to be higher simply because if they were at balance and cortisol is stealing from progesterone, now estrogen is higher.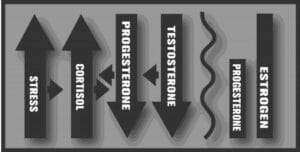 The bottom line is, it really is simple to lose your weight when your hormones are in balance. If you'd like to see if these components are causing your health issues and causing you to have an inability to lose weight we have a simple hormone health evaluation you can take by going to www.2030fasttrack.com.